How do I download a clock face?
If you are browsing this page on the device you have the Fitbit app installed, the blue cloud download icons above will try to launch the clock face gallery in the Fitbit app. Alternatively, just open the Fitbit app, tap the Ionic/Versa icon twice, then tap the "Clocks" option to open "My Clock" where you may then tap "Pick a New Clock" or "ALL CLOCKS" to browse the clock face gallery. The Fitbit gallery now includes a search function, if you search for '45six' you should see a list of those available for your watch.
How do I change to a 12 or 24 hour clock?
https://help.fitbit.com/articles/en_US/Help_article/1176/#clock
K-pay - I already paid, why am I charged a second time?
Currently there is an issue on the Fitbit platform which causes this problem. The current Fitbit SDK does not allow K-pay to uniquely identify you again after you installed another clockface to test. This will cause the clockface you already purchased to think you are a new user and ask for payment again.
You can unlock your clockface again for free here. Then follow a few simple steps and you will be up and running again in no time.
Hopefully Fitbit will enhance their SDK soon to resolve this problem and allow K-pay to make the user experience better for their customers. Feel free to vote for this issue to be solved faster here.
K-pay - I entered the 5-digit code on the purchase page and it tells me that code is unknown or already used
Each code is valid for one hour. This probably means your code is expired. Normally it should refresh automatically after an hour, but the Fitbit watches have some connection issues which sometimes cause the watch being unable to reach our server, and the new code is never displayed.
For now the solution is to make the clockface restart, which will force a new code to be loaded and displayed.
You can do this by opening the settings on your watch, then backing out of those settings till you are in the clockface again. This will cause a clockface restart. In case that does not work, you can also shutdown and restart your watch.
How may I purchase one of your clock face bundles?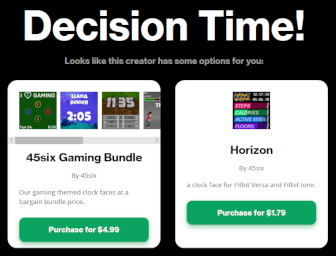 All of our paid clock faces feature a trial period. When the trial ends (or you select 'End Trial Now') you will be prompted to visit http://kzl.io/code and type in a code. The code will be displayed on your watch and on the My Clock Settings page in the Fitbit app. If the clock face is part of a bundle the K-pay site will show your purchase options. Any additional clock faces that are later added to a 45six bundle you have purchased will be available to you at no extra charge. Thank you for your support, I couldn't keep doing this without your generosity.
Fitbit Status?
Please visit http://www.fitbitstatus.com
Something else?
Please send me a direct message via Xbox Live, on Twitter or join the conversation on the 45six Discord.