How do I download a 45six clock face?
If you are browsing this page on the device you have the Fitbit app installed, the Download buttons should trigger the Fitbit app on your device to open and display the clock face gallery. Alternatively, please refer to this official Fitbit help page: How do I change the clock face on my Fitbit device?. Once you are browsing the Fitbit clock gallery you can search for '45six' or the specific clock name.
How may I purchase one of your clock face bundles?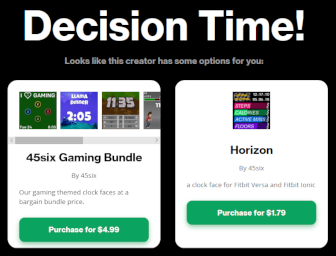 All of the 45six paid clock faces feature a trial period. When the trial ends (or you select 'End Trial Now') you will be prompted to visit http://kzl.io/code and type in a code. The code will be displayed on your watch and on the My Clock Settings page in the Fitbit app. If the clock face is included in a bundle the K-pay site will show your purchase options. Any additional clock faces that are later added to a 45six bundle you have purchased will be available to you at no extra charge. Thank you for your support, I couldn't keep doing this without your generosity.
Alternatively, you may purchase a bundle directly from the K-pay site via the green button links shown in the bundles section above.
K-pay - I bought a bundle, how can I install the other clockfaces/apps in the bundle?
After your purchase, K-pay send you an e-mail containing more information about what you purchased. The e-mail will show all clockfaces/apps in the bundle with a download button next to each one of them. Use that download button to go to the Fitbit gallery and install the clcokface/app on your watch. Note: These download links only work if you use them on the phone or tablet on which you have installed the Fitbit app. Alternatively, you can use the search functionality in the Fitbit gallery to find the app/clockface instead.
K-pay - I already paid, why am I asked to pay again?
Currently there is an issue on the Fitbit platform which causes this problem. The current Fitbit SDK does not allow K-pay to uniquely identify you again after you installed another clockface to test. This will cause the clockface you already purchased to think you are a new user and ask for payment again.
You can unlock your clockface again for free here. Then follow a few simple steps and you will be up and running again in no time.
Hopefully Fitbit will enhance their SDK soon to resolve this problem and allow K-pay to make the user experience better for their customers. Feel free to vote for this issue to be solved faster here.
K-pay - I entered the 5-digit code on the purchase page and it tells me that code is unknown or already used
Each code is valid for one hour. This probably means your code is expired. Normally it should refresh automatically after an hour, but the Fitbit watches have some connection issues which sometimes cause the watch being unable to reach our server, and the new code is never displayed.
For now the solution is to make the clockface restart, which will force a new code to be loaded and displayed.
You can do this by opening the settings on your watch, then backing out of those settings till you are in the clockface again. This will cause a clockface restart. In case that does not work, you can also shutdown and restart your watch.
K-pay - How may I find what I purchased?
After each purchase, you receive a "Purchase Success" e-mail from K-pay. The e-mail shows you exactly what you purchased and how you can install those apps and clock faces.
Alternatively you may enter your email address on https://k-pay.io/lookup to view a list of clock faces and apps you have purchased through K-pay.
How do I change to a 12 or 24 hour clock?
https://help.fitbit.com/articles/en_US/Help_article/1176/#clock
How do I change/remove a clock face on my Fitbit device? #uninstall
Please follow the instructions provided by Fitbit: https://help.fitbit.com/articles/en_US/Help_article/2311
Fitbit Status?
Please visit http://www.fitbitstatus.com
Something else?
Please send me a direct message via Xbox Live, on Twitter or join the conversation on the 45six Discord.
Comment modifier l'affichage de l'horloge sur mon appareil Fitbit ?
https://help.fitbit.com/articles/fr/Help_article/2311/
Comment passer d'une horloge au format 12 heures à une horloge au format 24 heures et vice-versa ?
https://help.fitbit.com/articles/fr/Help_article/1176/#clock
J'ai acheté un bundle, comment puis-je installer les autres clockfaces/Apps dans le bundle?
Après votre achat, K-Pay vous envoie un e-mail contenant plus d'informations sur ce que vous avez acheté. L'e-mail affichera tous les clockfaces/Apps dans le bundle avec un bouton de téléchargement à côté de chacun d'eux. Utilisez ce bouton de téléchargement pour aller à l'AppStore et installer le clcokface/App sur votre montre. Remarque: ces liens de téléchargement ne fonctionnent que si vous les utilisez sur le téléphone ou la tablette sur lequel vous avez installé l'application Fitbit. Vous pouvez également utiliser la fonctionnalité de recherche dans la Galerie Fitbit pour trouver l'application/cadran à la place.
État du Fitbit?
S'il vous plaît visitez http://www.fitbitstatus.com
Wie ändere ich das Ziffernblatt auf meinem Fitbit-Gerät?
https://help.fitbit.com/articles/de/Help_article/2311/
Wie kann ich auf 12- oder 24-Stunden-Format umstellen?
https://help.fitbit.com/articles/de/Help_article/1176/#clock
Ich kaufte mir ein Bündel, wie kann ich die anderen clockfaces/apps im Bundle installieren?
Nach dem Kauf schickt Ihnen K-Pay eine e-Mail mit weiteren Informationen über das, was Sie gekauft haben. Die e-Mail zeigt alle clockfaces/apps im Bundle mit einem Download-Button neben jedem von Ihnen. Nutzen Sie diesen Download-Button, um zum AppStore zu gehen und die clcokface/App auf Ihrer Uhr zu installieren. Hinweis: Diese Download-Links funktionieren nur, wenn Sie Sie auf dem Telefon oder Tablet verwenden, auf dem Sie die Fitbit-App installiert haben. Alternativ können Sie die Suchfunktion in der Fitbit-Galerie nutzen, um stattdessen die APP/clockface zu finden.
Fitbit Status?
Bitte besuchen http://www.fitbitstatus.com