2018 - My own Microsoft Band died earlier this year so I have regretfully removed the GamerBand app from the Windows Store as I am unable to test updates required by changes to the Xbox data sources and Windows SDK. I hope you enjoyed using the app. If like me, you have switched to a Fitbit, please check out GamerBand in the Fitbit clock gallery.
Apr 14th 2017 - Over 14k downloads just ahead of GamerBand's two year anniversary in the store. Coincidentally, it is my 14th anniversary of Xbox Live this month. Time for a few new wallpapers, just in case you're not using the custom wallpaper option to import your own.
Apr 7th 2017 - Based on your feedback a "No Adverts&quots; option has been implemented, so if you've enjoyed using the app and want to send me a little monetary token of your appreciation, or you simply hate the adverts, please purchase the add-on via the "about" page. The adverts displayed in GamerBand are from AddDuplex which is a cross-promotion network helping developers promote each others apps for free. I do NOT earn any money from the adverts displayed.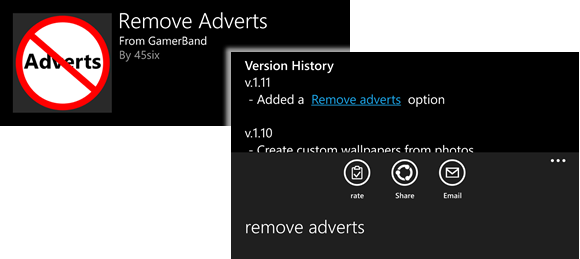 ---

Jun 25th 2016 - Gamerband has been updated with a few new wallpapers: Project Scorpio, Sea of Thieves, Hitman and Skyrim. I've also included a link on the 'About' page in the app to Band Store, it's an excellent Windows Phone app that helps you find more great Microsoft Band apps. Gamerband is featured in their "Top Free Apps" list and with your help, a few more five star reviews, we might make it on to the first page, ha-ha.
Apr 21st 2016 - Tomorrow is the one year anniversary of GamerBand being published in the Windows Store. According to the Microsoft Dev Center the app has been downloaded 9035 times. Thanks for your support.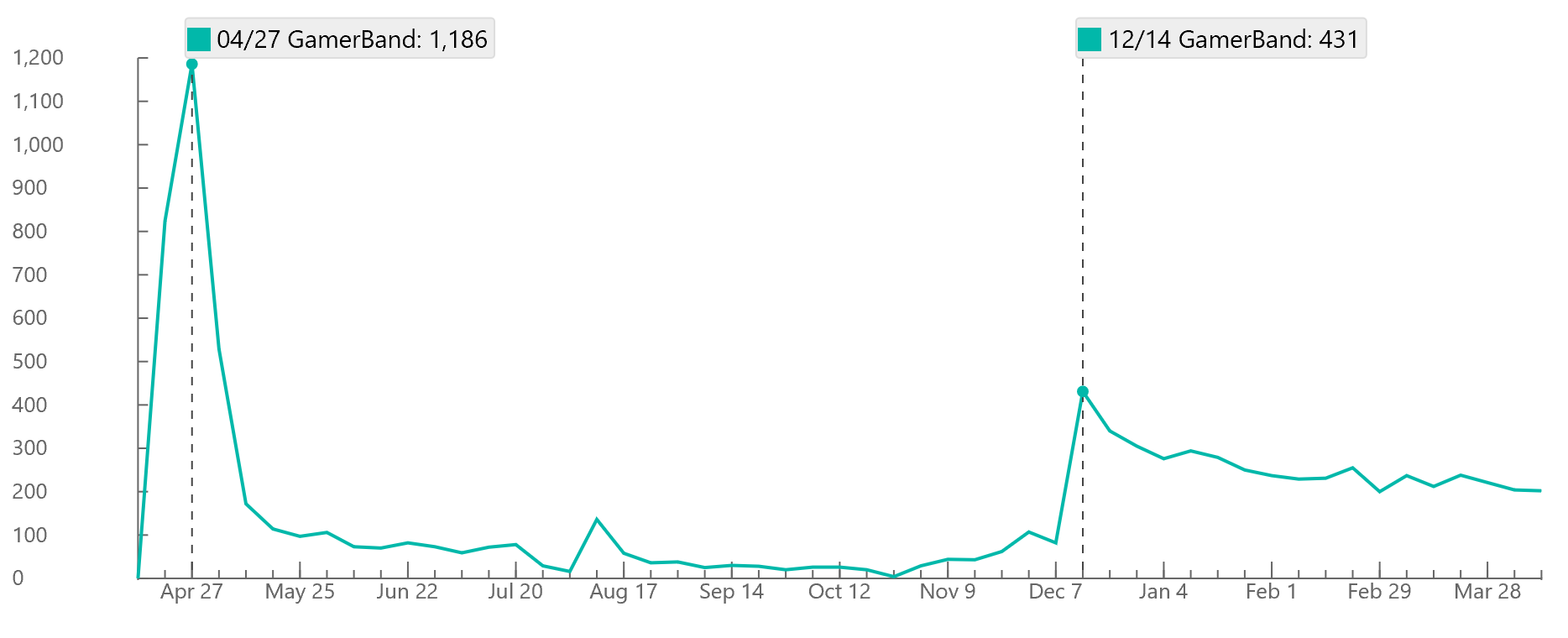 ---
Apr 4th 2016 - Ray Cox aka Stallion83 shares his MeTile, featuring Shawn Ashmore, in honour of Quantum Break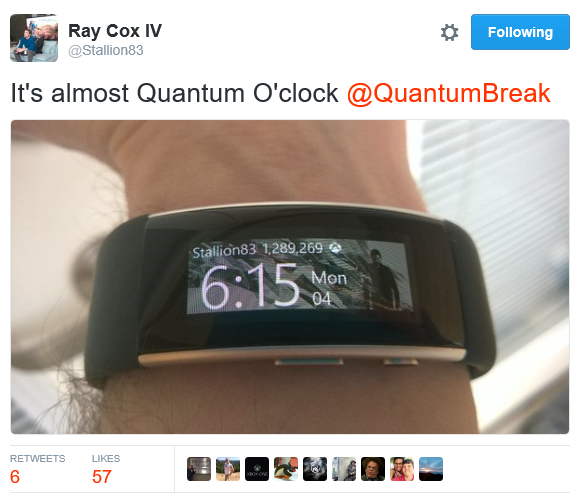 ---
Dec 17th 2015 - George Ponder reviews GamerBand for Windows Central - GamerBand puts your Xbox Avatar on your Microsoft Band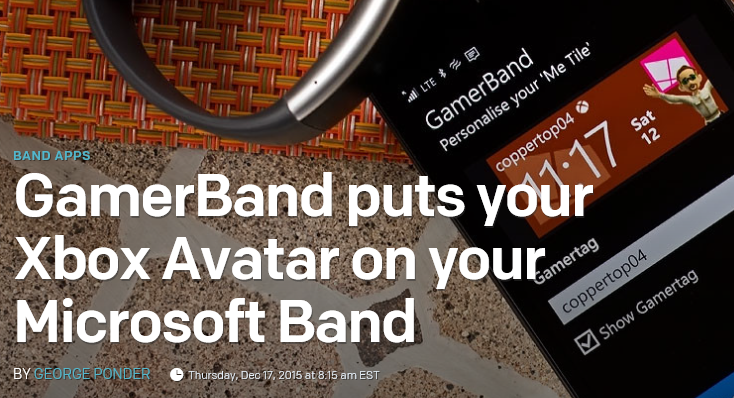 "We liked the app when we first took a look at it and after several updates, our opinion has not wavered. At last check, GamerBand is rated at 4.3 Stars with several positive comments from users describing the app as "must have" and "very cool". We won't argue with the rating and see GamerBand is a solid addition to the collection of Band Apps in the Windows Phone Store."
---
May 2nd 2015 - Ian Dixon, founder of thedigitalifestyle.com says "It is a really nice way to customise your Band if you are an Xbox Live fan."
---
Apr 27th 2015 - Graeme Boyd, Xbox Live's AceyBongos sharing his GamerBand Me Tile on Instagram.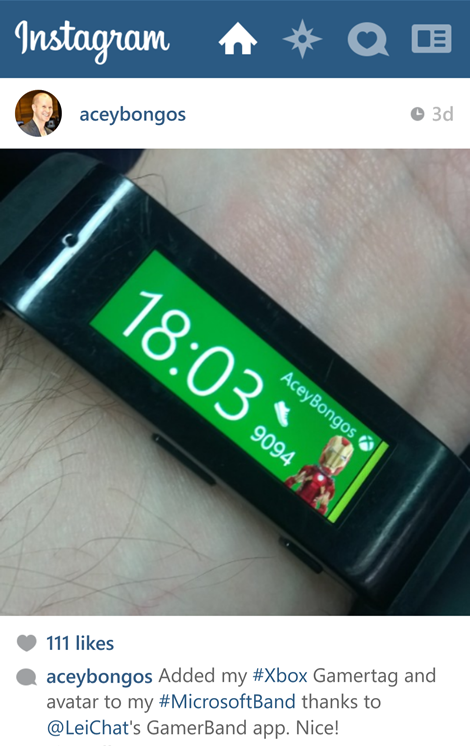 ---
Apr 22nd 2015 - Álex Rodríguez for MicrosoftInsider.es - "Gamerband te permite lucir tu avatar de Xbox en tu Microsoft Band"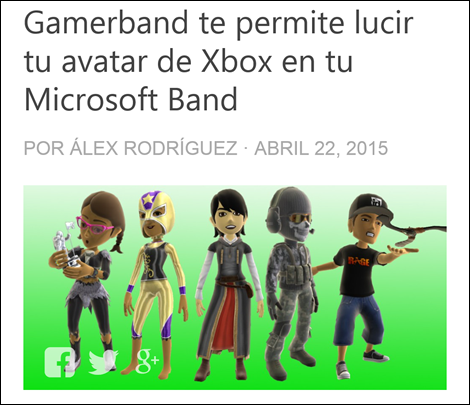 "El funcionamiento de la aplicación es muy sencillo. Únicamente tendremos que introducir nuestro nombre y seleccionar la posición y el tamaño de nuestro avatar. La aplicación también nos permite escoger el color de fondo que se mostrará en nuestra Microsoft Band junto a nuestro avatar. Una vez terminada nuestra creación pulsaremos al botón sincronizar, localizado en la barra inferior, y nuestro avatar será transferido a nuestra Microsoft Band. GamerBand es gratuita y por ahora únicamente está disponible en inglés, aunque como hemos dicho antes, cuenta con una interfaz muy intuitiva, de forma que el idioma no supondrá ningún problema."
---
Apr 22nd 2015 - Windows Central's Mark Guim offers readers a how-to video on GamerBand v.1
"Now that you've been playing with your Xbox avatar on Windows 10 Preview, you can also try carrying your mini-character on your wrist. This is possible because of a Microsoft Band third-party app called GamerBand. The Windows Phone app lets you add your Xbox avatar and Gamertag to your Microsoft Band's Me Tile."
---
Apr 2017 - Melvin, Belgium

forum of MonWindows.com and it is really great. Possibility to choose his own background for the Band 1 and/or 2, customization with Xbox GamerTag, GamerScore, Avatar, Logo. Simple, fast and intuitive, everything that is necessary for a good app.">Fonctionne parfaitement avec ma Microsoft Band 1 via mon Lumia 950. J'ai installé cette application qui m'a été conseillé sur le forum de MonWindows.com et elle est vraiment top. Possibilité de choisir son propre fond d'écran pour la Band 1 et/ou 2, personnalisation avec GamerTag/GamerScore/Avatar/Logo Xbox. Simple, rapide et intuitive, tout ce qu'il faut pour une bonne appli.
Apr 2016 - Michael, US

Best one out there. Let's you put an Xbox twist on your band 1 or 2 and lets you make a custom wallpaper for or choose from the awesome premade ones. I'd give 6 stars if I could
Apr 2016 - Max, US

Awesome app, awesome dev. Earned a 5 star for custom backgrounds. Love this app, dev was super responsive to questions
Nov 2015 - Matt, US

Looks great on the band screen! The Dev's continue to update and make this app a MUST have!!! Great additions and fixes, love it!!!
Jun 2015 - Jordan, US

I love this app. Now I can show off my gamer score and avatar wherever I go. A must have for anyone who is super proud of their gamerscore.
Jun 2015 - Neeka, UK

Excellent! A must have for any gamers, allowed me to share and my buddies could see my tag too.
Jun 2015 - Joey, UK

Since putting this onto my Band I haven't gone back to Pimp My Band since! A great Xbox-based Band customisation app with regular support.
Jun 2015 - Joni, Finland

Now with support for GS this is even better :)
Apr 2015 - Adam, US

Awesome!!!! only one more feature request is more color ranges.
Apr 2015 - trev, UK

Easy to use, looks great on the band. If you're a geek like me you will love this app!! Shows the huge potential for the Microsoft Band as well
Apr 2015 - Rob, UK

Great app for Xbox lovers, love seeing my GT on my band. Cheers
Apr 2015 - John, US

Very easy to setup and run. It males me want to get back online and update my Avatar! 😊