Jan 27th 2018 - I was pretty chuffed that Daniel Rubino (Windows Central) thought it worth a mention but, the fact that Phil Spencer thinks GamerBand is cool as well !!?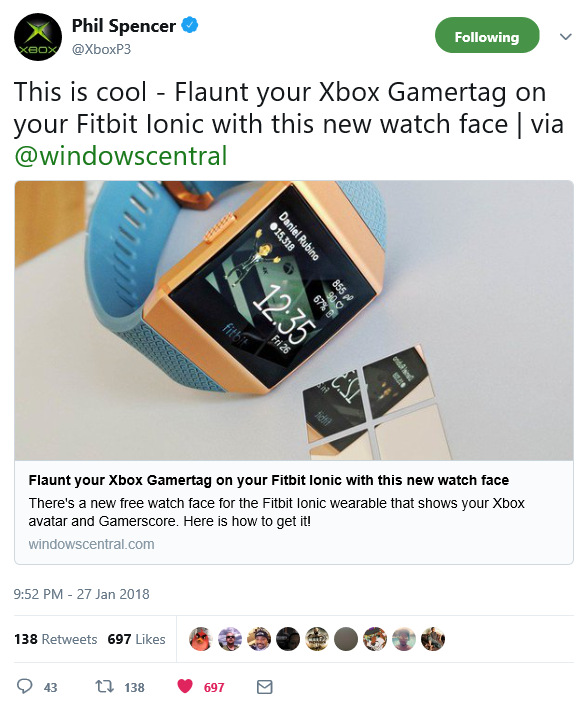 How do I refresh my Gamerscore and/or Avatar ?
The download is performed by the companion app that runs within the Fitbit app on your phone. In version 1.0.2 of the GamerBand clockface you will need to open the Fitbit app (and browse to the 'My Clocks' settings page), once every 24 hours to trigger the download of your current gamerscore. The download may take a couple of minutes so please be patient. Your phone needs a 3G/4G or WiFi connection to the internet to be able to access your Xbox profile data.
How may I customise my Xbox Live Avatar?
You can change your avatar on your Xbox console, the Avatar Editor on the Xbox.com website or the Windows 10 "Xbox Avatars" app.
More support is available on Xbox.com here: http://support.xbox.com/en-US/xbox-one/downloadable-content/customize-gamerpic
How may I change my avatar's pose?
The pose applied to image of your avatar which GamerBand uses is (usually) linked to the prop you have selected. It is not something GamerBand is able to change for you, sorry.
More support is available on the Xbox.com site here: http://support.xbox.com/en-US/xbox-360/xbox-live/purchase-use-avatars
Something else?
Please send me a message via Xbox Live or on Discord.